McAllister and Ski Sharp move south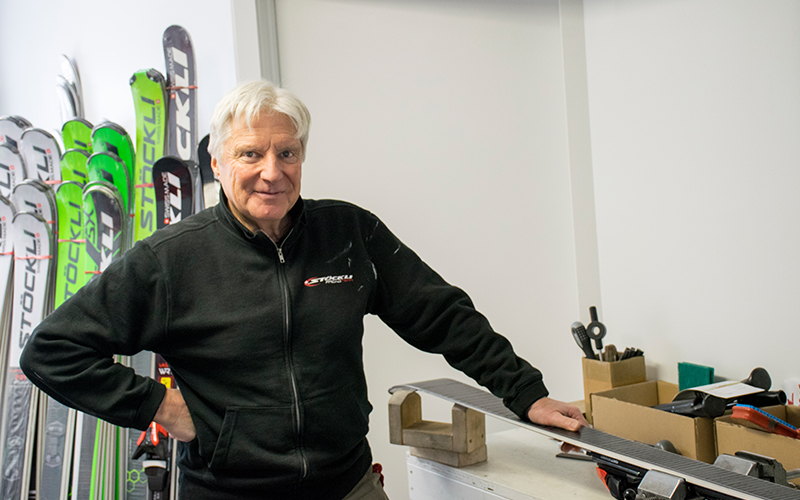 After 40 years in a Waitsfield garage, Rick McAllister and Ski Sharp have moved south -- south to Irasville Common that is. Ski Sharp had been in a garage on a parcel owned first by the late Stanley Orr and then by the late Reggie Orr. There he founded Ski Sharp and had a motorcycle shop.
The iconic Ski Sharp offers hand-tuned ski sharpening (including offering the racer's edge sharpening) and only Stockli and Marker and a small number of other brands. McAllister said the Orr property was sold, which precipitated his move to the newer, smaller space that is connected to his daughter Hillary Downing's hair salon,
The History of Ski Sharp Ski Shop: A Vermont Skiing Institution
Nestled in the picturesque town of Waitsfield, Vermont, Ski Sharp Ski Shop has been a beloved and integral part of the local skiing community for several decades. Founded with a passion for skiing and a commitment to providing top-notch equipment and services to skiers of all levels, Ski Sharp has evolved from a small, family-owned shop into a thriving business that plays a vital role in the heart of Vermont's ski culture.
Looking to the Future: Preserving the Skiing Legacy
As we bring this history of Ski Sharp Ski Shop to a close, it's essential to consider the shop's future. While I don't have access to current information beyond my last knowledge update in September 2021, one thing is certain: Ski Sharp Ski Shop will continue to be a vital part of Vermont's skiing culture.
The shop's enduring legacy is a testament to the passion and dedication of its founder, employees, and the skiing community it serves. Ski Sharp's commitment to quality, expertise, and community engagement has allowed it to thrive for decades, and there's every reason to believe it will continue to do so.
In conclusion, Ski Sharp Ski Shop is more than just a retail store; it's a symbol of the enduring love for skiing in Vermont. From its humble beginnings to its current status as a beloved institution, Ski Sharp Ski Shop has played an essential role in shaping the skiing culture of the region. As skiers continue to seek out the perfect gear, expert advice, and a sense of community, Ski Sharp Ski Shop will remain a cherished destination, preserving the legacy of skiing for generations to come.
WARM AND COZY
"I'm kind of liking it, it's very small, warm and cozy, not at all like a garage. It's much more comfortable. It's working out really well," McAllister said, noting that he got out of the motorcycle business around 2000.
As many readers know, The Valley Reporter moved offices last fall after sharing a building with Brother's Building for 39 years so VR staff could relate to McAllister's comments on moving.
"It was so hard to move. When you're in a place for 40 years, you collect a lot of stuff. I ended up throwing away a lot of stuff," he said.
COVID-19
Beyond that, his move last spring was punctuated by the state being shut down at the start of the COVID-19 pandemic and he also got COVID-19.
He is finding this new location ideally suited for skiers picking up and dropping off as well as shopping. "This is a better location because I'm between the ski areas and the liquor store. This space has easier access and people have to go by it on the way to either grocery store," he added.
NOT MOVING AGAIN
And he doesn't plan to move again anytime soon.
"Right now, I'm at 5197 Main Street and I told my daughter that the next place I move will be 5195 Main Street," he said referring the Irasville Cemetery which is adjacent to the Irasville Common Complex.